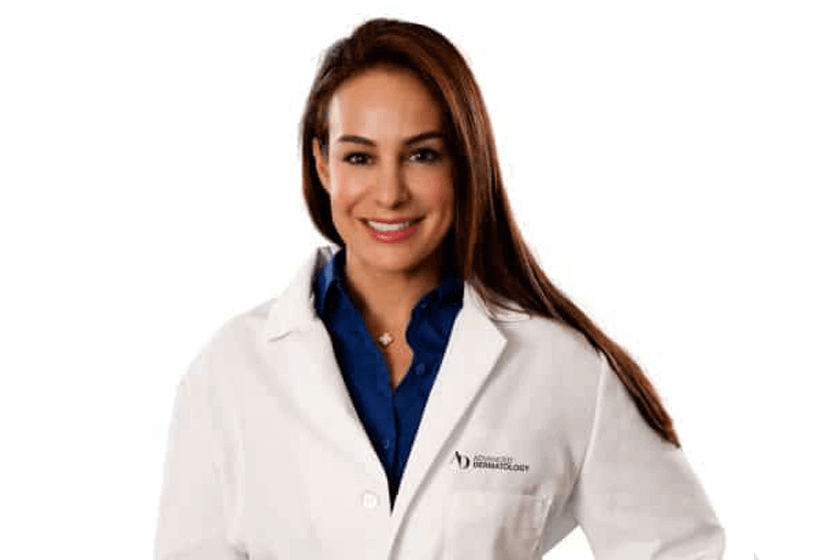 One of the founding physicians of Houston, TX Advanced Dermatology is Dr. Sherry Ingraham who is a board-certified dermatologist with extensive training in medical and cosmetic dermatology. She provides men and women with dermatological services, like laser surgery, hyperhidrosis treatment, psoriasis treatment, and cosmetic injectables. As a national trainer for Voluma, Restylane Silk, and Juvéderm, Dr. Ingraham has unparalleled experience with these dermal fillers. She trains doctors across the country on proper injection techniques. Dr. Ingraham is also a national trainer for Kybella, the injectable treatment indicated to eliminate unwanted submental fullness along the neck and jawline, and she was one of the first 100 doctors in the country to use this treatment.
Named "Best Dermatologist" by the Fort Bend Star, Dr. Ingraham has distinguished herself in the medical community through her clinical research, scientific presentations, and published work. She is frequently featured for her dermatologic expertise in the media, appearing in both local and national television, print, and digital publications. Her press features include Vogue.com, Shape Magazine, InStyle, Dr. Oz – The Good Life, Fox 26 Houston, Great Day Houston, ABC 13 Houston, KHOU 11, and more.
Dr. Ingraham's professional memberships include the American Academy of Dermatology, the American Society of Dermatologic Surgery, the Women's Dermatologic Society, the Harris County Medical Society, the Texas Medical Association, and the American Medical Association.
Dr. Ingraham sees patients in our Katy and Sugar Land, TX locations.
Reviews
"Not make common sense - My son developed a group blister on his upper right cheek very close to his eye. Visited Doctor Sherry Ingraham, waited for more than 30 minutes, spent only a few minutes on the kid. Not knowing the cause of the problem, had lab work taking a week to know the result, prescribed a cream which says "if no clinical result within 3 to 5 days, need a re-evaluation". But told us to have a follow-up in two weeks. Does she really care about the patient? Now 4 days have passed, no sign of getting better, now developing new blisters towards the eye, just wonder if we should re-visit her tomorrow, hoping the lab result will come out, or see another dermatologist!"
Anonymous
Vitals
"Great and highly skilled Dermatologist! - I've visited Dr. Ingraham for various cosmetic procedures through the years, and not only have I been beyond pleased with the results, but she continues to amaze me with her advanced knowledge of treatments. She seems to always be on the cutting edge of technology and practices, providing a plethora of new options for my cosmetic needs."
Anonymous
Vitals
"Best Dermatologist Ever - Dr. Ingraham is a master of her craft. She is reliable and responsive and excels on both the cosmetic and medical aspects of her practice. Her patients do not look "done," but rather refreshed and magically younger. Her staff is very kind, helpful, and knowledgeable. I am sold!"
Anonymous
Vitals
"Dermatology - I have been seeing Dr. Ingraham for 5 years and each time I see her I am even more impressed by her and her amazing staff. She is so personable and knowledgable in all areas of Dermatology. She has seen my entire family for many different issues and has been spot on with diagnosis and treatment. I have done a number of cosmetic procedures from botox to fillers to most recently the new FDA approved skin threads for wrinkles and lip volume. What I find so wonderful about her is that her work is so natural. I also appreciate her sweet disposition, whether it was removing my son's wart or piercing my daughter's ears you always feel like you are her top priority."
Anonymous
Vitals
"Best in Houston - Back for a follow up appointment. Advanced addressed my pre-cancerous skin damage as discussed/advised and to my satisfaction. I really appreciate the thoughtfulness and care Dr. Ingraham takes to explain the condition, the solution, and the precaution measures I will need to take. I always feel I'm in expert hands here as a result. Advanced honors my appointments as scheduled and the staff always seem to appreciate my business. I highly recommend these guys."
Anonymous
Vitals
Related Posts