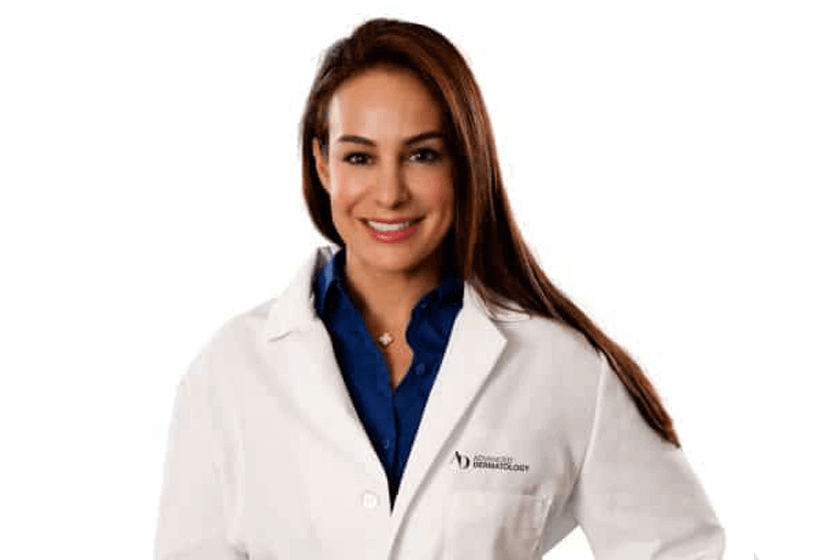 One of the founding physicians of Houston, TX Advanced Dermatology is Dr. Sherry Ingraham who is a board-certified dermatologist with extensive training in medical and cosmetic dermatology. She provides men and women with dermatological services, like laser surgery, hyperhidrosis treatment, psoriasis treatment, and cosmetic injectables. As a national trainer for Voluma, Restylane Silk, and Juvéderm, Dr. Ingraham has unparalleled experience with these dermal fillers. She trains doctors across the country on proper injection techniques. Dr. Ingraham is also a national trainer for Kybella, the injectable treatment indicated to eliminate unwanted submental fullness along the neck and jawline, and she was one of the first 100 doctors in the country to use this treatment.
Named "Best Dermatologist" by the Fort Bend Star, Dr. Ingraham has distinguished herself in the medical community through her clinical research, scientific presentations, and published work. She is frequently featured for her dermatologic expertise in the media, appearing in both local and national television, print, and digital publications. Her press features include Vogue.com, Shape Magazine, InStyle, Dr. Oz – The Good Life, Fox 26 Houston, Great Day Houston, ABC 13 Houston, KHOU 11, and more.
Dr. Ingraham's professional memberships include the American Academy of Dermatology, the American Society of Dermatologic Surgery, the Women's Dermatologic Society, the Harris County Medical Society, the Texas Medical Association, and the American Medical Association.
Dr. Ingraham sees patients in our Katy and Sugar Land, TX locations.
Reviews
"Dr. Ingraham excised a cyst on the side of my face that had been plaguing me for the better part of a year.  At my first appointment, she presented me with all my treatment options but noted that the only permanent solution was to cut it out; however, this would leave a small scar.  I was reluctant to mar my Adonis-like visage, but the desire to be free of this unholy pox trumped my vanity. The day of the surgery I was ill at ease (did I mention how good-looking I am), but the nurse who prepped me was delightful and Dr. Ingraham was an absolute pro. After she stitched me up she told me to come back for a follow-up. At my third appointment, Dr. Ingraham removed the stitches.  A nurse could have just as easily performed this task, but Dr. Ingraham recalled how apprehensive I had been about the cosmetic result. I am happy to report that it healed beautifully and people have told me that the scar actually lends a certain ruggedness to what may have been "too pretty" a face. Advanced Dermatology cares about their patients. I give them my highest recommendation."
J.J.
Yelp
"Staff are very friendly. Dr. Ingraham has a great bedside manor and is very thorough."
T.C.
Yelp
"Dr. Ingraham is so knowledgeable and friendly. Her staff will go above and beyond to help the patients get what they need, especially when insurance can be tricky getting things covered. Have been very happy with their services and would recommend them to anyone needing a good dermatologist."
A.D.
Yelp
"I love this practice for many reasons: My sons and I see Dr. Ingraham for different reasons, but the result is always the same - great care and advice.  She takes the time to talk to you and understand your issues and concerns. She addresses every concern I have, plus gives me some advice on skin care and general health that I appreciate. She is also great at following up to ensure that you are taken care of.   I also go to Advanced Dermatology for cosmetic procedures. Recently I started IPL laser treatments of my face. Mary Beth Strayer - my aesthetician - is fabulous!  She spoke with me about the results I want to achieve, and had great suggestions for products and treatments to help me get there. I'm seeing amazing results!   I feel that I've found a practice that cares. I highly recommend this team!"
K.M.
Yelp
"Back for a follow up appointment.  Advanced addressed my pre-cancerous skin damage as discussed/advised and to my satisfaction. I really appreciate the thoughtfulness and care Dr. Ingraham takes to explain the condition, the solution, and the precaution measures I will need to take.  I always feel I'm in expert hands here as a result.  Advanced honors my appointments as scheduled and the staff always seem to appreciate my business. I highly recommend these guys."
J.S.
Yelp
Related Posts