Dr. Pelster was born and raised in Brentwood, TN, a suburb of Nashville. He completed his undergraduate education at Vanderbilt University where he graduated as salutatorian of his class. He remained at Vanderbilt University for medical school where he received his medical degree and was inducted into the Alpha Omega Alpha honor society. Dr. Pelster moved to Northwestern Memorial Hospital in Chicago, IL for his internship in internal medicine. He remained at Northwestern University to complete a dermatology residency where he served as a chief resident during his final two years.
Following residency, he completed an ACGME-accredited fellowship in Mohs micrographic surgery and dermatologic oncology under the direction of dermatologic surgeon Dr. Ian Maher at Saint Louis University in St. Louis, MO. His mentor, Dr. Maher, sits on the board of the American College of Mohs Surgery and is internationally recognized as a reconstructive surgeon. Dr. Pelster also received extensive instruction in cosmetic dermatology, including the use of neurotoxins, injectable fillers, and laser devices.
Dr. Pelster has published multiple articles in various journals, including JAMA Oncology, Dermatologic Surgery, JAAD Case Reports, and the American Journal of Dermatopathology, as well as several textbook chapters on dermatology and dermatologic surgery topics. He has also served as an article reviewer for JAMA Oncology and Dermatologic Surgery.
Dr. Pelster is a Clinical Assistant Professor at the University of Texas John P. and Kathrine McGovern Medical School at Houston.
He is a member of the American Academy of Dermatology, the American College of Mohs Surgery, the American Society for Dermatologic Surgery, and the American Society for Laser Medicine and Surgery.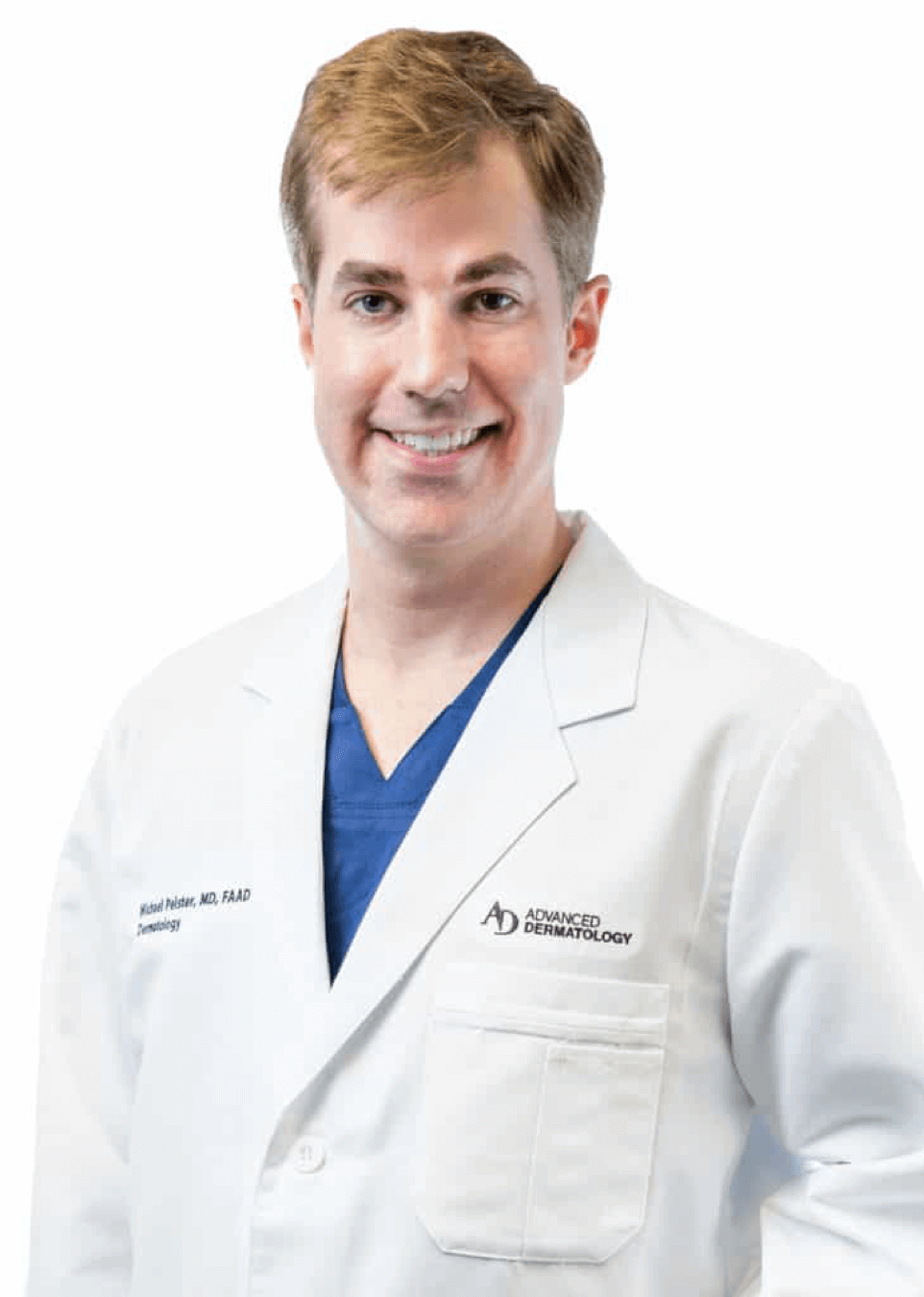 Dr. Michael Pester
Board-Certified Dermatologist / Fellowship-Trained Mohs Surgeon
Mohs micrographic surgery is a specialized, advanced technique for the removal of skin cancer. When compared to other forms of treatment, it has two important advantages:
It has the highest cure rate for most skin cancers, up to 99% in some cases, as it allows evaluation of 100% of the deep and lateral margins under the microscope.
It removes minimal normal healthy skin, thus improving your cosmetic outcome compared to other techniques.
Who is qualified to perform Mohs Surgery?
The highest level of qualification for a Mohs surgeon involves completion of an internship (1 year), a dermatology residency (3 years), and an additional ACGME-accredited fellowship in Mohs micrographic surgery and dermatology oncology (1 year), which requires performing at least 400 cases as primary surgeon. As there are some non-dermatologists and dermatologists without fellowship training that perform Mohs surgery, it is important to make sure that your Mohs surgeon is board certified in dermatology by the American Board of Dermatology and that he or she has completed an ACGME-accredited fellowship. Dr. Pelster is a board-certified dermatologist and completed over 900 cases as a primary surgeon during his ACGME-accredited fellowship.
Mohs Surgery Reviews
"I have been using Advanced Dermatology for few years now.  Dr Duncan has kept my skin cancer under control. Dr Duncan and staff are wonderful,, they are kind, professional and caring. I recently had some Mohs surgery done on top of my head and Dr Peltster performed the surgery Great doctor , great surgeon am sure I will be seeing him in the future  Key & Liz gave me great instructions on how to care for the wound Dr Duncan has other transplant patients and  excels at handling our skin cancer incidents Too notch group of people"
- B.Y. /
Yelp /
Sep 12, 2018
"In Nov. 2018, Dr Pelster did Mohs surgery on my face. He and Liz (his surgical nurse) were great! They made me feel very comfortable and explained everything to me. They allowed me to play "my music" and even sang along on a song or two. They talked to me about day to day things, like a friend would. This helped me to relax, and not think about the surgery being done to my face. Dr Pelster closed the incisions in my natural cheek and lip lines. They gave clear post op instructions. Now 8 weeks post op, the scars are almost totally faded. Most people do not notice the scars at all. I highly recommend him and his staff."
- L.B. /
Google /
Feb 05, 2019
"My visit for Mohs surgery went very well, I was informed of what to expect and what will be done and the process involved. Everyone was polite, friendly and professional. Four weeks after surgery while following the instructions provided, the area where the basil cell was removed is healing very quickly and is hardly noticeable at this time. I felt at ease as Dr. Pelster and his staff (Key and Liz) took great care of me. I highly recommend Dr. Pelster and his excellent staff."
- D.S. /
Google /
Oct 05, 2018
"Was very pleased with the results of Dr. Pelster's Mohs surgery. He is extremely qualified and his manner makes you very comfortable. His surgical assistant Key was extremely helpful and followed up with a phone call the night of the surgery. I highly recommend them."
- D. /
Google /
Sep 05, 2018
"I had Mohs surgery to remove a sunspot from my chin. Doctor Pelster did a great job removing the tissue and sewing me up. His surgical assistant Liz and nurse Key gave me follow up care instructions that greatly aided and expedited my recovery! Thank you Advanced Dermatology!"
- D.D. /
Google /
Nov 05, 2018
Previous
Next
How Do I know if i need mohs surgery?
It depends. In 2012, a large panel of physicians developed Appropriate Use Criteria (AUC) for the Mohs technique (Dermatol Surg. 2012 Oct;38(10):1582-603). These criteria are generally followed with only occasional exceptions by most Mohs surgeons and insurance companies. Tumors on the scalp, face, neck, hands, groin, shins/calves, and feet frequently meet the criteria and benefit from Mohs surgery. High-risk tumors in other sites (such as recurrent tumors, large tumors, tumors with aggressive features identified on initial biopsy, or tumors where the edges cannot be clearly defined) often meet criteria as well. For small tumors on the trunk, arms, and legs above the knee, there is sometimes less benefit to Mohs surgery, and other treatments (standard surgical excision, "scrape and burn" (also known as ED&C), or topical chemotherapy creams) often make more sense.
Why do I need Mohs micrographic surgery?
For the reasons above, Mohs surgery is the treatment of choice for basal cell carcinoma (BCC) and squamous cell carcinoma (SCC) of the scalp, face, neck, hands, groin, shins/calves, and feet. Mohs is also useful for high-risk tumors (e.g. recurrent tumors, large tumors, tumors with aggressive features identified on initial biopsy, or tumors where the edges cannot be clearly defined) in other locations on the body.
My biopsy site seems to have healed up. Do I really need another procedure?
Most likely, yes. The biopsy itself uncommonly removes the entire tumor. Often, there is tumor left under the skin that is not visible; also frequently the lateral edges of a tumor are not visible to the naked eye and will continue to grow if not removed.
How do I prepare for MOHS surgery?
What restrictions will I have after the surgery?
We recommend that patients avoid strenuous activity and exercise for two weeks following the surgery. Lifting heavy objects (greater than 10 pounds) or otherwise stressing the surgical site dramatically increases the risk of a complication.
Additionally, we recommend that patients do not expose the surgical site to water other than normal showers and baths for the four weeks following the surgery. Immersing the site in the Gulf, lakes, rivers, or even pools increases the risk of difficult-to-treat infections.
Do I need to bring a driver?
There are two instances in which you need to bring a driver:
If the tumor is near the eye or upper part of the nose, often the post-operative pressure dressing will block the vision out of one eye, making driving unsafe.
If you require anti-anxiety medications for surgery, then you will need a driver also. If there is any concern or doubt in your mind, please bring a driver.
Can I eat the day of my surgery?
Yes, absolutely, please do. Eat a hearty breakfast the morning of the surgery and take all of your usual morning medications. We also recommend bringing a snack or small lunch because sometimes you will be in the office until the afternoon. In addition, because there can be a good amount of waiting time, it makes sense to bring a book, magazine, or computer/smartphone to pass the time.
Do I need to stop my blood thinners?
NO. Please continue all of your normal medications, including blood thinners. Extra bleeding due to anticoagulant and antiplatelet medications can be easily managed during Mohs surgery, and the increased risk of a stroke, heart attack, or other clots from stopping these medications are not worth the risk. Again, please continue all of your normal, medically necessary medications.
Do I need an antibiotic?
Generally no, but it depends. Patients with recent joint replacements or implanted devices (such as pacemakers and defibrillators), as well as patients at high risk for infection of the heart valves do sometimes benefit from antibiotics, and we can discuss this at your visit. Additionally, some anatomic sites or large repairs also benefit from antibiotics. This can also be discussed at your visit.
What happens during the procedure?
Step 1: The site of the tumor/biopsy site is marked with a surgical pen.
Step 2: The skin is cleaned and numbed with local anesthesia. Many patients have anxiety about the injection of the local numbing, but rest assured, we use several techniques to minimize the pain associated with the injection.
Step 3: The skin cancer is removed with a scalpel in a beveled fashion, taking narrow margins (generally 1 – 2mm, although this varies by location and the clinical situation). Prior to removal, reference nicks are made in the tissue and surrounding skin so that any remaining cancer can be precisely located.
Step 4: The removed tissue goes to the histology laboratory (on-site) for processing and the preparation of slides for the Mohs surgeon to review. Tissue processing can be time-consuming so there is often a wait time of 1 – 2 hours while this is done.
Step 5: If there is any tumor remaining after reviewing the slides, this is precisely mapped so that the surgeon can remove only the necessary areas of skin, and then Steps 2 – 5 are repeated.
Step 6: Once the tumor is completely removed, the doctor will discuss with you your reconstruction options.
Step 7: Reconstruction is completed on the same day in the majority of cases, and the wound is bandaged. The initial large, pressure bandage stays in place for 24 – 48 hours, after which you will perform daily wound care with petrolatum (Vaseline) and apply a much smaller dressing.
What Can I expect After Mohs Surgery?
Will I have a scar?
Yes. A scar is the skin's normal response to injury. However, our goal for every patient is that by 4 – 6 months after the surgery, the scar will not be apparent to a casual observer at a normal conversational distance unless pointed out. In his reconstructions, Dr. Pelster takes great pains to minimize scarring to ensure that the patient is just as beautiful after the procedure as he or she was before. In addition, if these goals are not met, there are a variety of ways to improve scars later on, which can be performed in the office. When you leave after surgery, we will also give you detailed information about the steps you can take to help with scarring, which includes (after the area has had time to heal) wearing sunscreen, applying silicone gel products, and scar massage.
Why is the stitch line longer than the skin cancer?
Most skin cancers are roughly circular in shape. If a circle is stitched together directly, two unsightly lumps of tissue (called standing cones or "dog ears") form at each end of the closure. For optimal closure, a circular defect is converted into an ellipse (roughly the shape of a football) prior to straight-line closure. The standard length of this ellipse is 3 – 4 times the length of the defect left by the skin cancer removal. Although this can be startling when the bandage is first removed, a barely visible longer scar is much preferred to unsightly lumps of skin surrounding a shorter scar.
Why is my stitch line raised above the surrounding skin?
Most surgeons, including Dr. Pelster, believe in a concept called eversion. In general, stitch lines that are raised above the level of a surrounding skin at the time of your procedure will leave a less noticeable scar in the long-term compared to a stitch line that is entirely flush with adjacent skin.
What Comes After Mohs Surgery?
Often, we will use dissolvable stitches. If that is the case, we generally will schedule a follow-up appointment eight weeks after the surgery to check in with you. If non-dissolvable stitches are used, they will be removed in 5 – 21 days after the surgery, depending on the location of the stitches. Patients with non-dissolvable stitches will generally also have a follow-up appointment at eight weeks as well. Of course, if you have any concerns prior to that time, you are welcome to make an appointment to be seen earlier.
As noted above, we recommend that patients avoid strenuous activity and exercise for two weeks following the surgery. Lifting heavy objects (greater than 10 pounds) or otherwise stressing the surgical site dramatically increases the risk of a complication.
Additionally, we recommend that patients do not expose the surgical site to water other than normal showers and baths for the four weeks following the surgery. Immersing the site in the Gulf, lakes, rivers, or even pools increases the risk of difficult-to-treat infections.
Please remember to carefully follow all of the instructions that we give you for care of the area after your appointment.
Subsequently, you should return back to the general dermatologist who referred you for regular full body skin checks, usually every 6 – 12 months (but sometimes more or less frequently at her or his discretion). After one skin cancer, you have about a 2 in 5 chance of developing a second, unrelated skin cancer elsewhere on the body within the next five years.
Discover A Surgical Approach
When facing a skin cancer diagnosis, it is crucial to do your research and find a trained Mohs surgeon who is a good fit for your expectations and needs. Success rates of the procedure are directly correlated to your doctor's skill and experience. To learn more about the experience, training, and personal success rates of Dr. Pelster, call Advanced Dermatology now and simply schedule a consultation in Katy, League City, Pearland, or Sugar Land, TX.
Related Services
Related Post