Could your Clothes be Causing Bacne?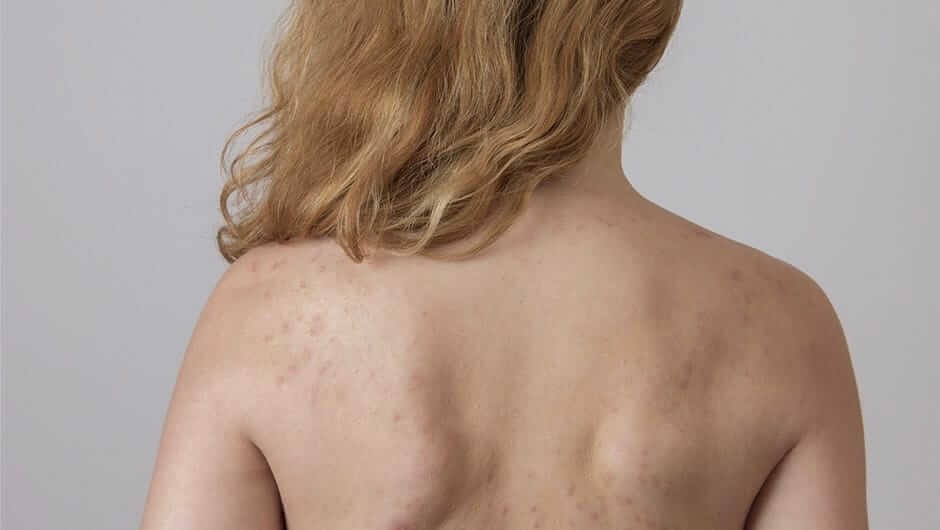 We may not always see it, but the next time you plan to wear a backless dress or go swimming, you may start to worry about noticeable "bacne". Yes, back acne. Some of us have dealt with getting our facial acne under control. But having it on our back is a whole other problem. Our very own Dr. Ingraham has some great advice to help those who suffer from this condition.
TIPS
After exercising, we all tend to sweat through our clothing and remain in our gym clothes once we get home. Athletic clothing may feel good when we are working out, but leaving it on makes one prone to "bacne". Our backs produce acne the same way our faces do. These sebaceous glands in the skin produce oil, which can collect along with dead skin cells in the pores. They become clogged up with bacteria making us susceptible to redness, whiteheads, and blackheads. Sports bras are one of the biggest reasons for women getting "bacne".
"They'll wear them all day, they'll wear them to the gym, come home and keep them on and so the sweat and debris is forced up against the skin and the skin can't breathe," Ingraham explains.
After the gym or any outdoor activity, wipe your face and back with micellar water on a cotton pad. You can remove dirt, excess oils, and makeup gently with it. It helps to draw out impurities without drying the skin.
Dr. Ingraham suggests wearing breathable fabrics such as cotton and removing sweaty clothing after the gym or a day out in the sun. She recommends topical products with salicylic acid or benzoyl peroxide, just like you would use on the face. Have a friend or parent assist you with the application if it is in a hard to reach spot. Just to note, using products with salicylic acid are less likely to stain clothing like benzoyl peroxide.
Another solution are Bioclarity products. Bioclarity products are topical creams and cleansers you can use for your back acne. It is specially formulated for those with sensitive skin.
If your body acne is getting out of hand, be sure to see a board-certified dermatologist. A dermatologist will recommend oral tablets or topicals to use that are prescription strength tailored to your skin type. Dr. Ingraham suggests prescription antibiotics to assist with back acne since topical creams may not help those with moderate to severe back acne. She recommends a long-time favorite, Accutane. Accutane is used to treat severe cystic acne or "nodular" acne. Accutane can be used if using topical products like benzoyl peroxide or clindamycin products are ineffective for your skin. Its formula is made up of retinoids. It can help by reducing the amount of "sebum" production which is our skin's natural oils.
But for those who do not want to take medicine for their acne, Nicadan is a great alternative. Nicadan is a specially formulated dietary supplement that contains natural ingredients with anti-inflammatory properties.
PATIENT PROFILE
Dr. Ingraham helped one of our patients achieve clear skin by sticking to a daily regimen. Patient Emma Watson noticed that her acne worsened after she joined the swim team.
"I would be self-conscious because I had it on my face, and now you could see it on my back", she said.
Now, Emma washes her back with a gentle cleanser daily and applies benzoyl peroxide to her back every night. She also began using Nicadan, which is an oral tablet containing vitamins with anti-inflammatory properties.
See the full story on KPRC News in the video above.
If you are experiencing body acne or facial acne, visit us at Advanced Dermatology at one of our convenient locations to see which treatment is right for you.