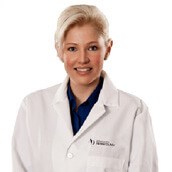 Dr. Kelly Duncan, board-certified dermatologist by the American Board of Dermatology, is a co-founder and co-director of Advanced Dermatology. Dr. Duncan has years of extensive training in advanced cosmetic and dermatologic procedures. Named one of the "Best Dermatologists" by the Katy Times, Dr. Duncan is dedicated to helping her patients achieve healthy, beautiful skin.
After attending The University of Texas Medical School at Houston, she served an internship at Lyndon B. Johnson Hospital in Houston. Dr. Duncan completed her dermatology specialty training at The University of Texas at Houston and received extensive dermatologic cancer training at the MD Anderson Cancer Center Department of Dermatology. Dr. Duncan's professional memberships include the American Academy of Dermatology, the Texas Dermatologic Society, Houston Dermatology Society and the Texas Medical Association.
Duncan's extensive knowledge across the dermatological field enables her to help her patients achieve their skin goals. Through her blog posts, Dr. Duncan weighs in on current skin care trends, gives tips and tricks on both medical and cosmetic dermatology, and most importantly, provides her readers with content that is backed by scientific and medical research.
Reviews
"I have been going to Dr. Kelly Duncan at Advanced Dermatology at the Katy location for years. Dr. Duncan is extremely knowledgeable, compassionate, and professional. I do not live near the Katy area; however, she is definitely worth the drive! I highly recommend her."
B.M.
Google
"Dr. Duncan is a wonderful doctor. Her assistants are very professional, kind, and courteous."
L.B.
Google
"Love Dr. Duncan! Great office staff!!"
R.S.
Google
"Dr Duncan is the best!!!"
S.G.
Google
"Dr Duncan has been seeing me for 7-8 years She is wonderful , listens ,advises & keeps close watch on my skin cancers I recommend Dr Duncan to everyone"
R.Y.
Google
Related Posts