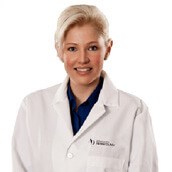 Dr. Kelly Duncan, board-certified dermatologist by the American Board of Dermatology, is a co-founder and co-director of Advanced Dermatology. Dr. Duncan has years of extensive training in advanced cosmetic and dermatologic procedures. Named one of the "Best Dermatologists" by the Katy Times, Dr. Duncan is dedicated to helping her patients achieve healthy, beautiful skin.
After attending The University of Texas Medical School at Houston, she served an internship at Lyndon B. Johnson Hospital in Houston. Dr. Duncan completed her dermatology specialty training at The University of Texas at Houston and received extensive dermatologic cancer training at the MD Anderson Cancer Center Department of Dermatology. Dr. Duncan's professional memberships include the American Academy of Dermatology, the Texas Dermatologic Society, Houston Dermatology Society and the Texas Medical Association.
Duncan's extensive knowledge across the dermatological field enables her to help her patients achieve their skin goals. Through her blog posts, Dr. Duncan weighs in on current skin care trends, gives tips and tricks on both medical and cosmetic dermatology, and most importantly, provides her readers with content that is backed by scientific and medical research.
Reviews
"I don't understand all the negative reviews.  I have been going here for 15 years, fighting psoriasis, getting Botox, and a few other fun anti-aging treatments.  Mostly, I see Dr. Duncan for psoriasis covering my whole body.  I've fought psoriasis my entire life, since 4 months old - for real.  I've seen many many doctors in my 54 years, and the standard treatments I received as a child, we now know were harmful and cause skin cancer.  At the time in the 70s it was the standard clinical treatment.  I see Dr. Duncan every 3 or 4 months now and she is a warrior, a true warrior that battles my skin with me.  I have never been clear, never, until I saw Dr. Duncan 15 years ago.  Anyone with severe psoriasis knows this kind of battle and what works one day, doesn't work the next.  She is the only, and I mean ONLY doctor in my life that has worked so hard to help me and get my skin clear.  She has all of the latest medications and biologics.  Yes she talks fast, yes there is a wait sometimes, but it's worth it.  And you should speak up and ask her to slow down if you aren't happy with the way the visit is going.  Patients have a responsibility too, and Dr. Duncan can't be expected to know what style a patient prefers without the patient speaking up.  She is not in my network so I am a cash pay patient and I have NEVER had any issues with extra changes or anything not explained to me in detail beforehand, not in 15 years of going here.  Everyone has a bad experience sometime, but there is no way all of these people with such negative reviews are being completely truthful.  If you want to look great with realistic Botox, Dr. Duncan is the one to see.  If you have a skin issue like psoriasis, Dr. Duncan is the one to see.  She will fight with you.  She makes me feel beautiful and gives me clear skin.  She has literally saved my life because psoriasis is more than skin deep.  Read the reviews on their website.  I think they are more accurate."
C.S.
Yelp
"My first visit and everyone was very professional & welcoming. Dr.Duncan is extremely professional and knowledgeable. I'm so appreciative of all the staff that were involved in my care."
J.R.
Google
"Alyx is great! The entire staff is always excellent. Been seeing Dr Duncan and staff for 20 yrs!"
B.B.
Google
"Dr Duncan is by far - the best!"
C.H.
Google
"Friendly and great service I've been seeing DrDuncan for many years she is the most caring and kindest compassionate person!"
C.L.
Google
Related Posts