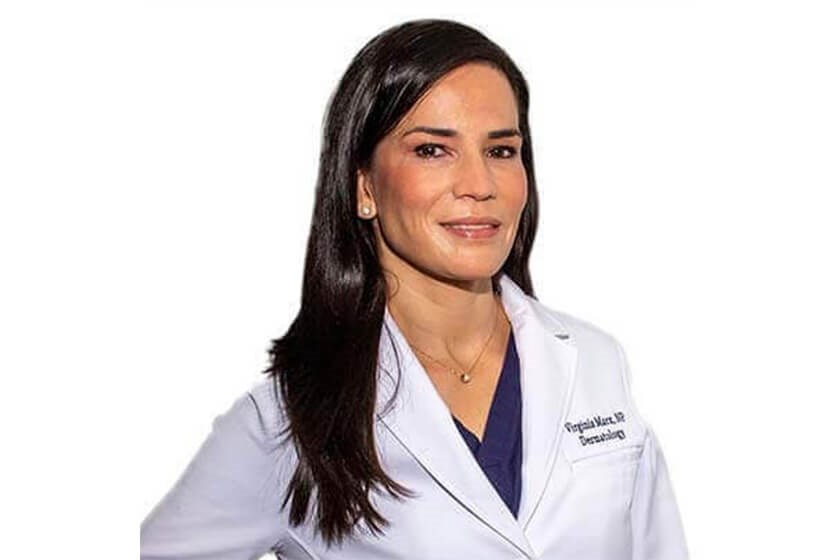 Virginia Marx graduated from Virginia Commonwealth University in 2000 with a Bachelor of Science in Business. In 2001 s the earned her Esthetician's License in New York where she started her esthetics career. In 2011, she received her Bachelor of Science in Nursing from Texas Woman's University. Virginia began her journey in aesthetic dermatology as a licensed Registered Nurse, and her passion for skincare drives her to continuously expand upon her education. Ever in the pursuit of expanding her knowledge, Virginia received her Nurse Practitioner degree at The University of Texas. She is utilizing her many years of experience and training as she treats patients for both medical and cosmetic services.
Virginia's extensive training, experience and aesthetic eye ensures that all her patients receive outstanding results from their treatments. She is committed to facilitating graceful aging by enhancing each patient's natural, unique appearance. In Virginia's words, "I love making people feel more beautiful and confident. It is my passion to provide you with wonderful aesthetic treatments to keep you looking younger and feeling great about yourself!"
As a highly skilled provider, Virginia is trained, certified and specializes in non-surgical treatments including injectables and laser treatments. Her natural approach to aging has created a loyal patient base
Reviews
"Five stars is for Kendra Salazar. Hands down , the best. I initially went and saw Dr Egesi and did not like my visits with her. After a couple of visits, I asked for someone else because she didn't seem to have very good relational skills when it comes to her patients and did not listen to my concerns. Kendra Salazar is a Physician Assistant but the actual Dermatologists could take some social queues from her. After having my son, my skin changed drastically and I had horrible acne. I felt very insecure and did not understand it. Kendra Salazar listened, showed concern and put me on the right medication.  My skin looks 100% better. She doesn't just recommend products sold at the office, she recommends prescriptions that insurance will cover too. I am SO glad I gave them another chance and went to Kendra. I feel so much better and not embarrassed to go out in public. I will probably go back to get some SkinPen treatments just because of Kendra. I honestly can't say enough good things about her."
H.K.
Yelp
"Very nice place ! Virginia is awesome! Dr, Duncan as well...everyone is super nice and friendly ...They should be more competitive with prices for certain treatments."
L.M.
Google
"I am a self-appointed skincare fanatic so I am very particular about who I let touch my skin! Siti, my aesthetician, is one person that I will trust blindly with my skin -- she has helped lighten my post-inflammatory hyper-pigmentation (dark spots from acne) and sun damage with SkinPen and IPL treatments. She knows how sensitive my skin is and is always recommends treatments for me that will be gentle and look natural while still seeing results. I also see Dr. Moore for my acne treatment and Botox -- she has the best bedside manner. Very calming for someone who is scared of needles and again, her results are subtle and natural without looking overdone. I get so many compliments on my skin thanks to Advanced Dermatology!"
A.K.
Google
"I finally find my place!! First of all everybody is so friendly and genuine.I want to thank to Mai, she explained everything detaily and made sure I understand everything. She follows up often and always ready to help or answer my questions. Also I want to thank to Dr. Sherry Ingraham for doing a tremendous job. She is so honest and nice that she will not do anything if you don't need. Unlike other places, they dont want your money, they want your satisfaction. She cares a lot before and after treatment and makes sure that you will have less bruises and swallen. I didn't had any bruise or swallen at all! Which is not the case normally.Their prices are pretty fair which you will see when you make little research at the market.I will be going there again soon for skinpen procedure and to see that lovely people's smiley face??"
D.S.
Google
"The service and congeniality at Advanced Dermatology is second–to–none! The clinic is attractive and comfortable, both in the lobby and in the examination rooms. Whenever I have an appointment for any cosmetic procedure I know I will be welcomed by the friendly staff. Sue is always helpful, friendly and courteous and we go above and beyond in helping explain treatments to make me feel comfortable. Virginia's knowledge and expertise in Ultherapy is top notch! I would never let anyone else perform that procedure on me. She is great with filler. She knows the correct amount to inject to keep me looking natural. CT and Marissa make me feel at home when I receive my Cooltherapy. They make me feel like I'm being pampered at a day spa! The Cosmetic Service at Advance Dermatology is truly the only place to get any cosmetic procedure!!!"
J.C.
Facebook