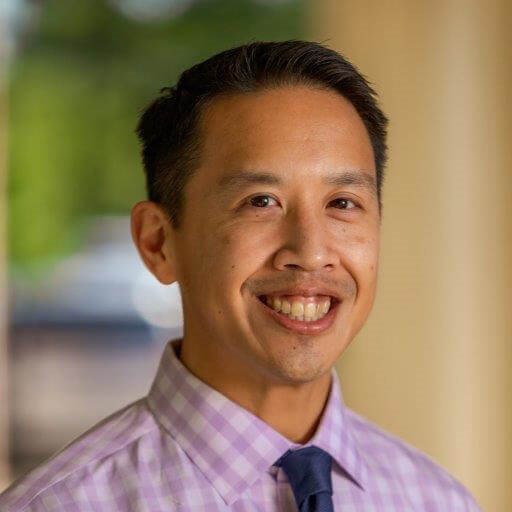 Originally from Minnesota, Cheney moved to Houston after attending the University of Wisconsin-Madison. Upon arriving he worked as a clinical research coordinator at MD Anderson Cancer Center. During his time there he wanted to be more involved with patient care, so he decided to pursue a Master of Science in physician assistant practice degree at Rosalind Franklin University of Medicine and Science in Chicago. During his clinical rotations he had a strong interest in dermatology and did a preceptorship with a dermatologist at the Great Lakes Naval Base. Cheney is a Diplomate Fellow of the Society of Dermatology Physician Assistants and is a NCCPA nationally board-certified physician assistant. He has 13 years of experience treating patients of all ages in all aspects of medical, surgical and cosmetic dermatology. Houston has been Cheney's home now for 18 years. He is excited to be seeing patients in our Sugarland office. When he is not working, he enjoys spending time with his wife and 2 young children. In his spare time, he is an avid runner, traveler, amateur photographer and enjoys finding good places to eat.
Reviews
"I don't understand all the negative reviews.  I have been going here for 15 years, fighting psoriasis, getting Botox, and a few other fun anti-aging treatments.  Mostly, I see Dr. Duncan for psoriasis covering my whole body.  I've fought psoriasis my entire life, since 4 months old - for real.  I've seen many many doctors in my 54 years, and the standard treatments I received as a child, we now know were harmful and cause skin cancer.  At the time in the 70s it was the standard clinical treatment.  I see Dr. Duncan every 3 or 4 months now and she is a warrior, a true warrior that battles my skin with me.  I have never been clear, never, until I saw Dr. Duncan 15 years ago.  Anyone with severe psoriasis knows this kind of battle and what works one day, doesn't work the next.  She is the only, and I mean ONLY doctor in my life that has worked so hard to help me and get my skin clear.  She has all of the latest medications and biologics.  Yes she talks fast, yes there is a wait sometimes, but it's worth it.  And you should speak up and ask her to slow down if you aren't happy with the way the visit is going.  Patients have a responsibility too, and Dr. Duncan can't be expected to know what style a patient prefers without the patient speaking up.  She is not in my network so I am a cash pay patient and I have NEVER had any issues with extra changes or anything not explained to me in detail beforehand, not in 15 years of going here.  Everyone has a bad experience sometime, but there is no way all of these people with such negative reviews are being completely truthful.  If you want to look great with realistic Botox, Dr. Duncan is the one to see.  If you have a skin issue like psoriasis, Dr. Duncan is the one to see.  She will fight with you.  She makes me feel beautiful and gives me clear skin.  She has literally saved my life because psoriasis is more than skin deep.  Read the reviews on their website.  I think they are more accurate."
C.S.
Yelp
"I was seen by Cheney Chang PA at my appointed time and the small procedure necessary was performed very effectively and efficiently. He answered all of my questions and gave me good instructions for my post-op care. Th entire appointment from the time I walked into the office until my post-op scheduling was very professional."
K.L.
Google
"My heart can't really express how I feel, they say you can only value what you have a great deal when you get it. I have traded with a few other managers desperately and I lost. I heard binary option trade is changing lives but I never had one until I come across Mrs. Kirkland Tina I received my first profit from her, I could not still believe it up till today I converted the bitcoins into cash, it's amazing now my story has changed through one single investment with Mrs. Kirkland Tina. You can contact her through Email:[email protected] WhatsApp: +1 (970)638-3982 Facebook: Kirkland Tina"
G.M.
Facebook
"I appreciate the kindness and efficiency of Cheney and his assistant, definitely a great visit!"
A.W.
Google
"Very fast service, no long waiting, nice & courteous employees, Dr. Cheney Chang very knowledgeable, explains understandably & his Assistant was extra nice & caring too!!!"
C.
Google