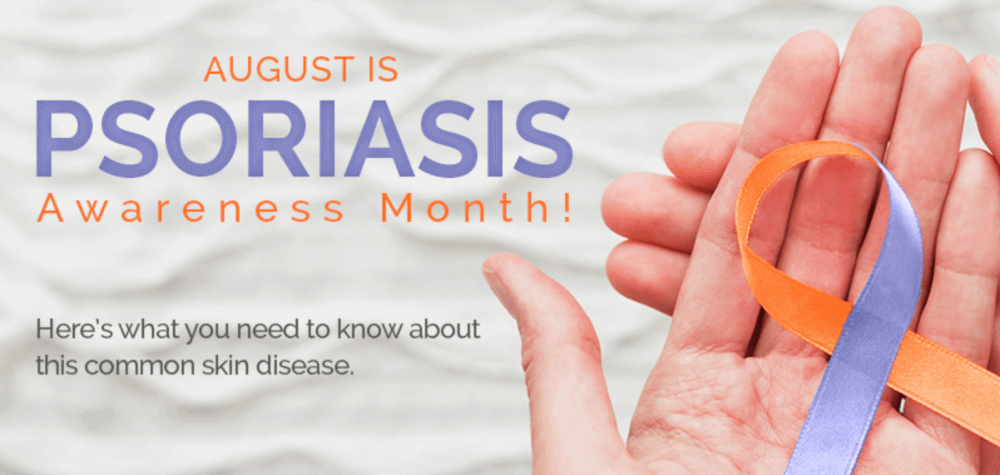 Psoriasis is a skin disease that affects more than 7 million people from the United States. August has been declared the National Psoriasis Month in an attempt to raise awareness about this disease and to educate Americans on how to cope with this illness more effectively.
What is Psoriasis?
According to the Mayo Clinic, psoriasis is a skin disease which consists of skin cells that grow too quickly and they build up at the surface of the skin. This illness might be associated with other health issues such as diabetes, depression or cardiovascular disease. Psoriasis manifests itself as red patches of skin which appear on different parts of the body such as elbows, belly, back, neck, etc. They are clearly visible and make one feel self-conscious. Psoriasis might also be accompanied by itching or burning sensations located in the areas where red patches develop.
Raising awareness about psoriasis disease is the right thing to do to help those who have it manage its symptoms easier. People can also donate money to various organizations to help to discover better cures for this skin condition and help others prevent psoriasis altogether. If you are currently struggling with this disease, here are a few methods you can try to cope with your ailment easier.
Switch to a healthier diet
The quality of the foods you enjoy can have a direct impact on the health of your skin. It is advised to reduce or eliminate fatty snacks altogether as these can contribute to various skin problems including psoriasis and acne. Other foods which should be eliminated from your diet include red meat. To keep your psoriasis symptoms under control, you can use olive oil more often and include seeds, nuts, and fish in your diet as these foods contain healthy fats that will maintain your skin in an excellent condition. It goes without saying that eating several servings of vegetables each day can be extremely beneficial for your overall health.
Try to reduce stress in your life
We all live in a stressful world where we have to juggle multiple tasks and responsibilities every day. However, you shouldn't let this overwhelm you. Everyone (including those who suffer from psoriasis) should find more ways to relax and reduce stress in an attempt to live a healthier life. For example, you can go out for walks, listen to your favorite music, take long baths (this also keeps your skin moist) or practice yoga. By reducing your stress levels, you will be able to manage psoriasis symptoms easier and better.
Try to eliminate alcohol from your diet
Although one or two glasses of wine a week shouldn't pose problems to anyone, it has been found that alcohol can amplify the symptoms of psoriasis. If you want to manage these symptoms better, try eliminating alcohol from your diet or at least reduce its quantity. This will reduce body inflammation and help your organism deal with psoriasis symptoms better.
Give up cigarettes
Smoking is one of the worst habits you can develop as there are more than 4,000 toxins in each cigarette. These unwanted substances will eventually get in your bloodstream and in your skin, making it look darker and dry. Try to quit smoking altogether and you'll reap multiple health benefits, not to mention that you'll be able to deal with psoriasis symptoms easier.
Professional dermatology services can offer the best results
If the above methods are not sufficiently effective for your psoriasis problem, you can also request the help of expert dermatologists. There are numerous professionals who use state-of-the-art equipment and advanced skin healing technologies for treating psoriasis. The curing process involves a personalized approach for each patient and might consist of special skin care and healthy diet adjustments.
"Thanks to the recent advancements in the medical field, patients are no longer expected to "live with" psoriasis" says PA Toni Smith.
The growing process of the skin cells can be drastically reduced and the red patches can be eliminated by using the correct procedures. Most patients can expect to be clear from psoriasis in a safe and efficient manner.
If you are tired of coping with psoriasis and want to try something new, make sure that you schedule an appointment with our dermatology office. Our specialists have years of experience in treating different skin conditions including psoriasis, rosacea, acne, rashes, etc. and we will tailor our services to match your specific needs!
Sign up HERE for the National Psoriasis Walk happening in September!
Click Here for details