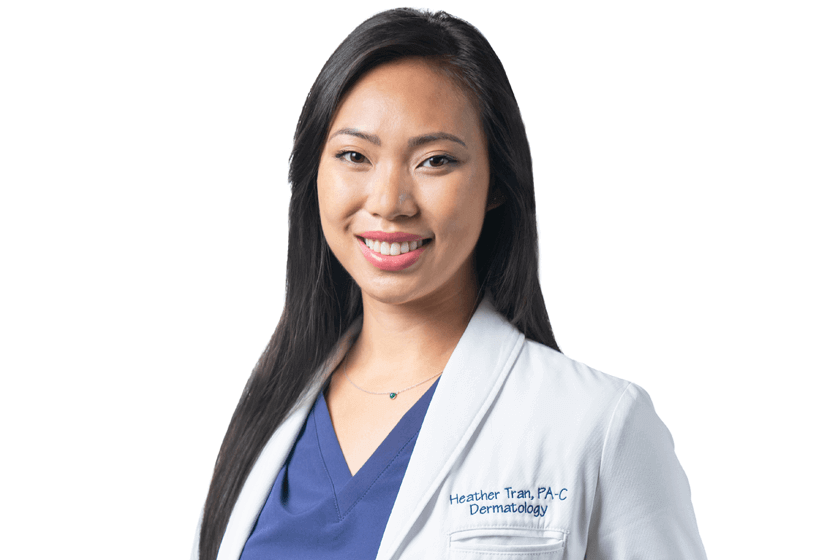 As a certified physician assistant in Katy and Sugar Land, TX offices, Heather Tran, has always had a strong desire to learn more as much as she can about dermatology. Her curiosity for all things about dermatology was nurtured by her uncle in Orange County, CA who is a dermatologist. Heather takes pride in her work by helping her patients achieve healthy, clear skin.
Heather graduated from the University of Texas in Austin, TX with a bachelor's degree in psychology. After college, she worked for a dermatology practice where she took a keen interest in the visual inspection, physical diagnosis, and patient education associated within the field. She continued her education at South University in Georgia, where she earned her Master of Science degree with honors in physician assistant studies.
She is an active member of the Society of Dermatology Physician Assistants and is licensed by the Texas State Board of Medical Examiners and the Texas State Board of Physician Assistant Examiners. She has received comprehensive dermatological and cosmetic training under our board-certified dermatologists, Dr. Sherry Ingraham and Dr. Kelly Duncan. She utilizes her experience and advanced education towards offering excellent care and knowledge to her patients.
Heather see's patients at our League City and Pearland Locations.
Related Post