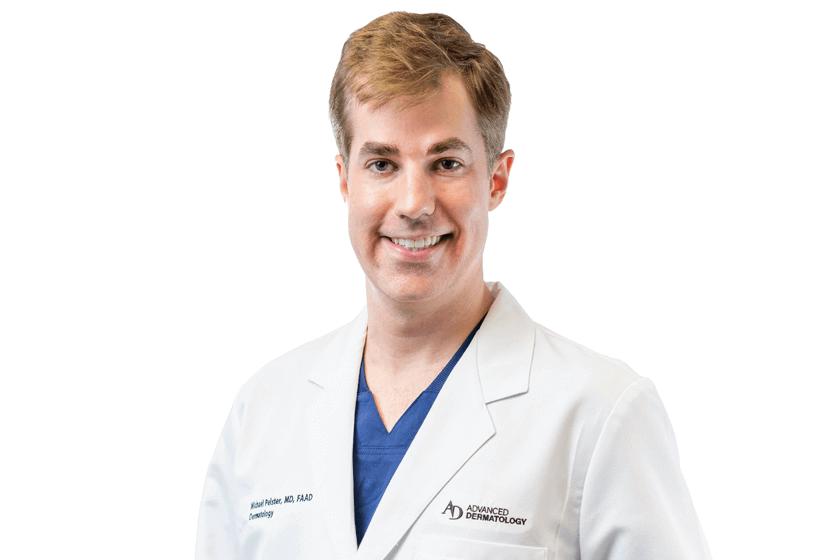 Dr. Michael W. Pelster is a board-certified dermatologist and fellowship-trained Mohs surgeon. He has dedicated his career to specializing in the diagnosis and treatment of skin cancer, Mohs micrographic and reconstructive surgery, and noninvasive cosmetic procedures. He graduated from Vanderbilt University as salutatorian of his class in his undergraduate program. He remained at Vanderbilt University for medical school where he received his medical degree and was inducted into the Alpha Omega Alpha Honor Society. He moved to Northwestern Memorial Hospital in Chicago, IL for his internship in internal medicine. Dr. Pelster remained at Northwestern University to complete a dermatology residency where he served as a chief resident during his final two years.
Following his residency, he earned and finished an Accreditation Council for Graduate Medical Education (ACGME) accredited fellowship in Mohs micrographic surgery and dermatologic oncology under the direction of his mentor and dermatologic surgeon Dr. Ian Maher at Saint Louis University in St. Louis, MO. Dr. Maher sits on the board of the American College of Mohs Surgery and is internationally recognized as a reconstructive surgeon. Dr. Pelster also received extensive instruction in cosmetic dermatology, including the use of neurotoxin injections, injectable fillers, and laser devices.
Dr. Pelster has published multiple articles in various journals, including JAMA Oncology, Dermatologic Surgery, and JAAD Case Reports, as well as several textbook chapters on dermatology and dermatologic surgery topics. He has also served as an article reviewer for JAMA Oncology and Dermatologic Surgery. He is a fellow of the American Academy of Dermatology, the American Society for Dermatologic Surgery, and the American Society for Laser Medicine and Surgery. Dr. Pelster is also a clinical assistant professor at the University of Texas John P. and Kathrine G. McGovern Medical School at Houston. He was born and raised in Brentwood, TN, a suburb of Nashville.
Reviews
"I had a basal cell removed last week and I was really nervous since it was my first one at only 38 yrs old. Dr. Pelster and his Nurse Liz were amazing. They made me laugh so I wasn't so nervous and then explained the process very well. Staff was very nice and office very clean. I would highly recommend them!"
M.H.
Google
"Very much appreciated the care and patience of Amri Hawkins during my vist for a procedure at the Katy office. She and Dr. Michael Pelster worked hard to assure me about the procedure. Because the former biopsy had healed without a trace, it was difficult to find exact area, so they offered me options, and we proceeded cautiously. They were kind and supportive and I felt at ease."
C.F.
Google
"In Nov. 2018, Dr Pelster did Mohs surgery on my face. He and Liz (his surgical nurse) were great! They made me feel very comfortable and explained everything to me. They allowed me to play "my music" and even sang along on a song or two. They talked to me about day to day things, like a friend would. This helped me to relax, and not think about the surgery being done to my face. Dr Pelster closed the incisions in my natural cheek and lip lines. They gave clear post op instructions. Now 8 weeks post op, the scars are almost totally faded. Most people do not notice the scars at all. I highly recommend him and his staff."
L.B.
Google
"I have to say I was a little nervous going in for my MOHS procedure as the spot to be removed was on my face. However Dr. Pelster and his M.A. Liz made me feel as comfortable as possible. Trust me, when you have to have a procedure you want a staff that knows how to calm your nerves and let you know that everything is going to be fine. These two are the real deal! Thank you Dr. Pelster and Liz!!"
J.M.
Google
"I had an excision done 2 weeks ago by Dr. Pelster and his medical assistant, Liz (she was awesome). For a procedure I dreaded, it ended up being totally painless and they were so personable and friendly I forgot I was having surgery as it was happening! They provided thorough wound care instructions, which I followed and had my stitches taken out by them today. At only two weeks post excision, it is looking far better than I thought it would. I would absolutely recommend Dr. Pelster!"
J.G.
Google
Related Post