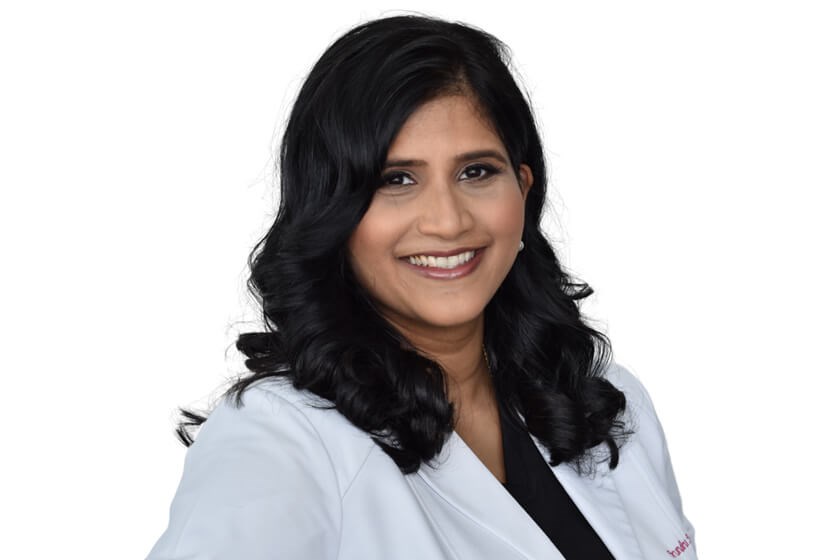 Brundha Balaraman, M.D. is a board-certified dermatologist specializing in advanced cosmetic and medical dermatology, with expertise in laser therapy, aesthetic medicine, and skin cancer. Dr. Balaraman received her bachelor's degree in biological sciences from Cornell University, where she was also a Howard Hughes Scholar. She received her medical doctorate from the prestigious Washington University School of Medicine in St. Louis. Dr. Balaraman subsequently completed her internal medicine internship at Barnes-Jewish Hospital and her dermatology residency at Washington University School of Medicine in St. Louis, one of the nation's top dermatology programs
Dr. Balaraman then completed a fellowship in cosmetic dermatologic surgery where she received advanced training in all the latest cutting-edge procedures including laser rejuvenation, BOTOX® Cosmetic and dermal filler injections, KYBELLA®, and noninvasive body contouring.
Dr. Balaraman has lectured at academic conferences across the U.S. and has been recognized nationally for leading public health policy issues, particularly in the establishment of tanning bed regulations. She has been recognized by National Public Radio, Reuters, and others for this achievement and received several awards including the prestigious Wynder Award for Preventative Medicine. Dr. Balaraman is also frequently interviewed by the media her for her expertise in cosmetics, photoaging, and skin cancer.
Dr. Balaraman has authored several articles on cosmetic and medical dermatology that have been published in top medical journals. She is also a reviewer for the Dermatologic Surgery journal. She has served on committees for the American Academy of Dermatology and the American Society for Lasers in Medicine and Surgery. Dr. Balaraman has successfully led clinical research trials involving novel laser devices. Her clinical and research interests include aesthetic medicine, and biomedical applications of lasers and energy devices. She utilizes the latest advances in technology and techniques to provide her patients with the most up to date care.
She is an active member of the American Academy of Dermatology, American Society for Laser Medicine & Surgery, American Society of Dermatologic Surgery, Women's Dermatologic Society, among others. During her spare time, Dr. Balaraman dedicates considerable volunteer time to dermatology initiatives including community skin cancer screenings and awareness programs. She also founded the SkinTrust, which aims to guide consumers about non-prescription and cosmetic skin care.
In addition to publishing several scientific articles regarding cosmetic and medical dermatology, she performs facial rejuvenation with injectable dermal fillers and neuromodulators like BOTOX® Cosmetic, body contouring, and multiple laser treatments.
Dr. Balaraman was raised in New York City. She lives in Houston with her husband, son, and two dogs. She enjoys travel, art, photography, and spending time with her family.